Who:
Amy & Mark
What:
A sunkissed woodsy wedding for 80 or so deep in the mountains of New Hampshire
Where:
Ceremony and tented celebration at a private residence in Thornton, New Hampshire.
When:
Saturday, July 11, 2009
How:
Rehearsal dinner, guest lodging and bridal preparations at the
Woodstock Inn
in Woodstock, New Hampshire;
Sottero and Midgley gown
from
Modern Bride Shop
in Bedford, New Hampshire; music from
North Conway DJ Andre Van Coesant
; linens and other reception related rentals from
Harte Rentals
; and yummy, three-weeks-later-and-I'm-still-talking-about-it catering featuring local and organic food from
personal chef Sarah Hipple (Welcome Home Chef)
.
Why:
"You know that's my
younger
brother, right?"
That was the reaction Amy received when she revealed to the host of the pool party she was attending -a close friend and fellow graduate student in the civil and environmental engineering department at UMass Lowell - that she'd hit it off with his brother, Mark.
She didn't. And really, she didn't care.
Mark, rugged and real, was someone she could just as comfortably talk shop with (he's an environmental engineer) as she could hurl herself out of a plane with (they both love to skydive). And thus, the awesome adventure that has been their life together for the past six years began. Their hearts and their pulses haven't stopped pounding since, as together, they've skied and been silly; luged (not a real word according to spellcheck as perhaps there really isn't a past tense of luge because so few people live to tell about it) and laughed; hiked and hugged.
As a friend so aptly put it, Amy finally found someone to keep up with her! And on a Saturday in July, their closest family and friends caught up with them too, for an outdoor celebration that was as much about the place that brought them together as the people, with the hazy White Mountains and the bleached birches as much a part of the couple's wedding wardrobe as Amy's gown and Mark's pressed linen suit.
I was thrilled about this wedding from the moment Amy, who was referred to me by a guest at
Lani and Steve's wedding
last August (thanks Vivien!), emailed me and included a snapshot of the site, a breathtaking private residence owned by a family friend. And when Amy came to town in May for business and Kyle and I took her out to dinner on the deck at
Flatbread
, my excitement only grew as I learned about all the ways Amy and Mark were making their wedding day reflective of the things they loved every other day of their lives. Perhaps nothing describes this couple and how grounded and grateful they are than what Amy told me a week or so before the wedding: "If it rains, we hope there will be a rainbow to capture."
With friends and family coming from all over the Northeast to rural New Hampshire, Amy worked her Blackberry all morning to assure everyone was where they needed to be.
Knowing how sporty Amy was and that she'd rather carry an hatchet than a handbag, I couldn't wait to see what she'd selected as a dress. Strapless and simple with just the slightest touch of sparkle, it was a perfect pick (and would go quite well with hiking boots).
I found Amy's bridal flip-flops sitting on the coffeetable next to her notes outlining the order the wedding party would walk onto the knoll for the ceremony.
Mark's cousin Kathryn was the maid of honor and is a bride-to-be herself. Here she helps Amy get into her dress, and I love the juxtaposition of the intricate white wedding dress with all of Amy's free flowing colorful sundresses hanging behind her in the closet.
Amy's mom walked her down the forested path, around the tall trees and into the ceremony, which was held on a birch-framed bluff overlooking the majestic White Mountains.
While it can sometimes make shooting a challenge, I love the feeling of intimacy created when guests stand for the ceremony (though it's always nice to provide a few chairs up front for those who need them, as Amy and Mark did).
Mark's brother Steve and his girlfriend Erin performed a song for the couple that was the highlight of the ceremony. I love Amy's awe in this image and Mark's expression too.
And then this little look she gives back at Mark, who looks about ready to burst with joy and contentedness.
Married!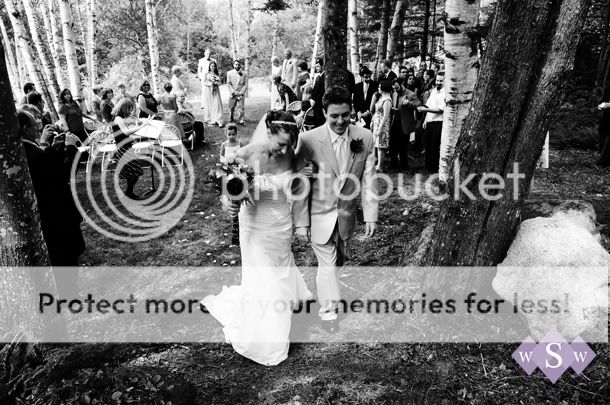 Mark's brother (the one who had the pool party) goes through the receiving line.
He was soon followed by Amy's mother, who just had to check out her son-in-law's new bling.
I adore the energy and warmth of this informal formal of Amy and her dear friend
Sarah
, who catered the wedding and herself was married in the same spot several years ago (it's her parent's place).
Though she grew up in suburban New Jersey, it's clear Amy is most at home in nature in New Hampshire, where Mark was born and raised by a family that is as warm as they are fun. In my imagery of the couple, I sought to position them within this place they are so passionate about.
I shared this when I posted their preview earlier in the month but it moves me too much to not include again here.
Seems I've been bitten by the bench bug as of late. Some of my favorite shots from the season have been based on benches, as I've found that getting off their feet allows couples to more naturally settle into each other, resulting in incredibly intimate images.
Ferns were included in many of the day's details, from decorating the programs to bringing a nice burst of color to Mark's lapel.
It's no surprise that a couple who so appreciates the outdoors is so committed to conserving and celebrating it. Because of this, Amy and Mark planned an eco-friendly wedding, using many reusable products and local grown vegetarian food and spirits that would give their guests a true taste of New Hampshire. Amy was worried her guests would grumble over the absence of the typical wedding food like chicken and beef, but she had no reason to be. Both the DJ and I agreed we'd never tasted better wedding food, including lettuce picked that very morning, and artisan cheeses from around the region. Even the mint in the mojito's was grown in a garden on site. Yum.
In keeping with the natural theme, even the cake was made to look like a birch tree, with Amy and Mark's initials carved in. Love this!
Guests were gifted with bookmarks made of handmade paper and the slenderest of seed pockets that when planted, would result in blooming wildflowers.
And some dancing with the best man.
And, with the groom to finish the night.
Amy and Mark, the day couldn't have better suited you and you couldn't have better suited that beautiful day! Glad to hear Italy was such a delight, and to see you soon on the slopes.
And be sure to watch
their slideshow here
. As promised, Jack the donkey makes an appearance, though he was quite bashful by the time my camera got to him with all the attention he'd received throughout the wedding day.