Who:
Angela and Jason
What:
A classic black and white wedding for 200 in central Maine.
Where:
Pre-wedding preparations at the amazing
Apollo Day Spa
in downtown Waterville (where the bride worked as a stylist through last week), ceremony at the
Moody Memorial Chapel
in Hinkley and reception at the Waterville Elks Lodge.
When:
Saturday, July 26, 2008
How:
Hair and makeup by the bride's dear friend and longtime co-worker Aaron at the hip
Apollo Day Spa
, stun-ing! Maggie Sottero gown from
Madeline's Daughter Bridal Shop
in Portsmouth, NH, transportation by
Atlantic Limousine
and DJing by Jeff Hunter of
Maine DJ
.
Why:
Right now, it's 92 degrees in Denver, and Angela is there (more than 2,000 miles from home), marching through the mile high city looking for a job with her new husband Jason by her side. Some honeymoon, huh? But despite the oppressive heat, and the fact that they had to catch the plane there to Colorado at 6 a.m., mere hours after marrying, you can be sure they both have smiles on their faces, and a spring in their step. Because that's the kind of love she and Jason have for one another. The kind where you are willing to forgo a honeymoon for two years to move across the country and find a new job, a new apartment and new friends, so your husband can pursue a master's degree at one of the nation's most prestigious architecture schools. And he would do the same for her, a trillion times over.
Having myself moved with Kyle and the kids to Portland from Farmington the day before their wedding, I think I have a small understanding of the strength and faith in one another it takes to attempt such a life-changing journey. It requires respect for each other, a sense of humor and an adventurous streak, and Angie and Jason have those in spades! Later this week (after hopefully finding a new home for the two of them and a great job for Angie), they'll fly back to Maine, load their boxes into a moving truck and hit the road for their return to the Rockies. Wow!
As a result of their major move, Angie and Jason's wedding day was about more than just marriage. One part family reunion, one part going-away party, and one part wedding, the day became a celebration of their past and a toast to their exciting future. There were more longs hugs than I typically see at a wedding, and throughout it all, Angie and Jason looked simply radiant!
What a month!
Angie's skin is magnificent- I am going to have to look into the
Aveda skin care line
!
One of Angie's dear friends, Aaron, did her makeup and hair, which helped keep her relaxed in the hours leading up to the wedding.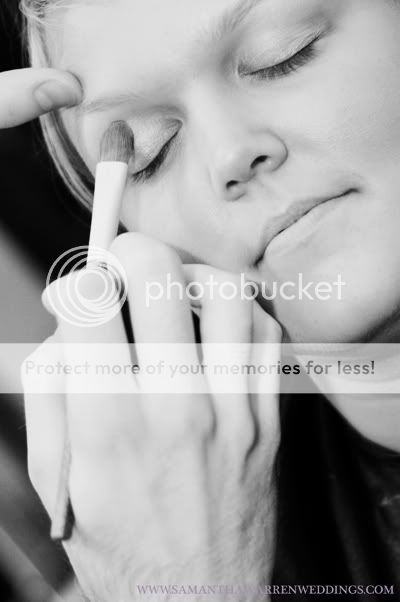 The dress hanging in the hallway at Angie's parents house where she made her final preparations.
Into the dress.
The chapel in Hinkley where the ceremony was held was lit entirely by the natural light streaming through the stainedglass windows behind the bride and groom. As a result, the light was very dramatic, making for a stunning silhoutte.
The wedding colors were black and white, which meant all the girls loved their dresses! Especially the flower girl, who wasn't so sure about being in the formal pictures.
The best man was so excited about his badge, an EBay score that was inspired from the (very hilarious) movie "You, Me and Dupree."
The church provided some beautiful backdrops. Love colorful doors!
Totally in the moment...
When there is lots going on in the background, I love to shoot my couples against the sky as it adds an air of intimacy. The light is a bit tricky, as the ceremony didn't start until after 6 p.m., so by the time we got around to images of the bride and groom, the sun was setting.
Angie was very excited about her flowers... they added a nice burst of elegant color to the black and white scheme.
Check out the bling. Beautiful! Love the cut of her engagement ring!
There were so many images from the first dance that made me catch my breath. This is one of them. Pure bliss...
At the wedding, there were many hugs, especially between Angie and her longtime co-workers from the Apollo Salon, who comprised the most stylish table at the reception!
The cake looked yummy- simple smooth fondant with the couple's new monogram.
A tender touch while greeting guests during the reception.
Angela and Jason, my thoughts are with you as you embark on this amazing journey. I am so impressed by your cool going into all these changes, and I know you will find much success wherever you travel
together
, especially Colorado!